Open House Days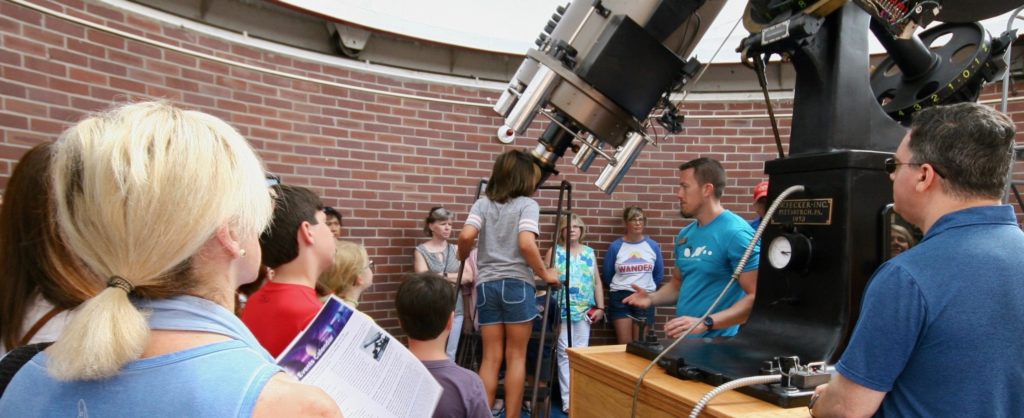 Astronomers offer tours of Vanderbilt's Dyer Observatory including the Seyfert Telescope. Weather permitting, visitors will also venture outside to view Sun through the solar telescope.
Guided tours are held on certain Fridays of each month (tour start times vary).  You may arrive and depart any time during the 9am-noon Open House.  You must make a FREE reservation online for either tour.  No tickets sold at door. All weather event. Recommended for ages 8 and up.
Please note:
The tour lasts approximately one hour.
Because this is a historic museum setting, we ask attendees to be mindful of the delicate nature of our exhibits and equipment.
The Seyfert Telescope is located on the second floor of the observatory. There are twenty steps leading to the second floor.
For the safety of all observatory guests, closed-toe footwear must be worn.
Please alert us if you are booking a large group that will be arriving at once (to allow for adequate staffing).
You do not need to bring a printed ticket; there will be a guest list at the gate.
Notify the gate attendant if you have special parking needs.
If your plans change and you can not attend, please cancel your ticket online or let us know so we may release the space to someone else.
TICKETS ARE AVAILABLE ONE MONTH BEFORE EACH EVENT. Please click HERE for tickets. Tickets for each Open House go on sale 30 days before each event. If you do not see the tickets you are looking for in the 30-day time window on the ticketing page, the event is canceled. Updates on our opening status are on our front page.

Open House Days for 2022 are:
May 6th, 1pm
May 20th, 1pm
Friday, June 24th, 10am
Friday, July 15th, 10am
Friday, July 29th, 10am
Future dates will be posted shortly…