Daytime Guided Tours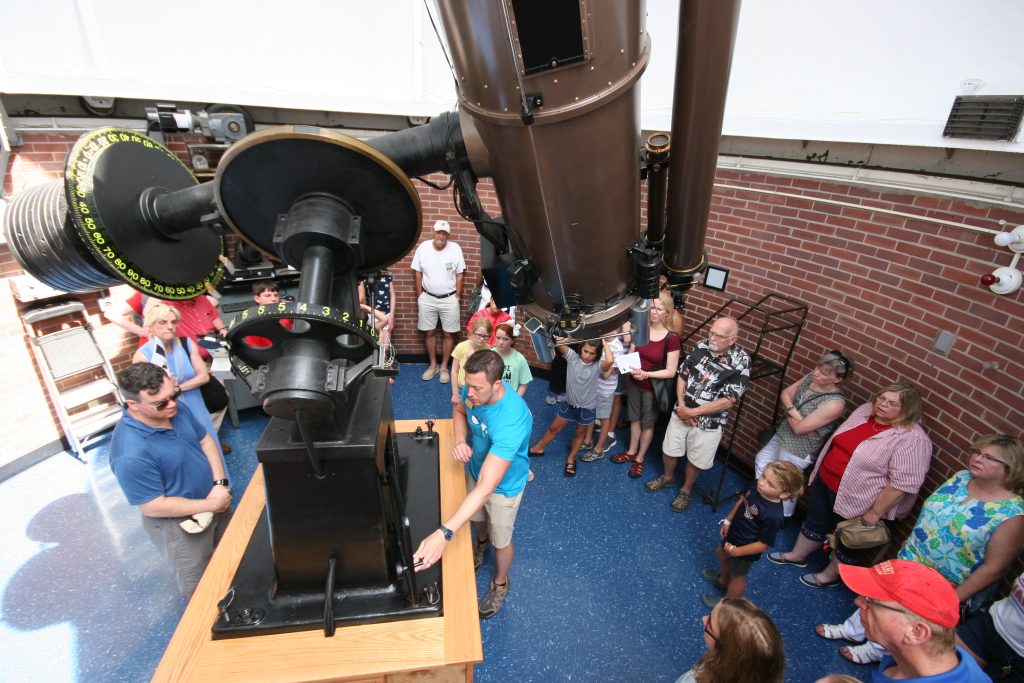 Tour Vanderbilt's Dyer Observatory and its interior exhibits–including the Seyfert Telescope in the grand dome. Weather permitting, visitors will also venture outside to see the sundial garden and view the Sun through the solar telescope. When conditions are right, guests may view a planet or star through the historic Seyfert Telescope.
Tickets are available as dates are announced, so check back throughout the year. Please click HERE for tickets.
Recommended for ages 8 and up. Tours typically run 60-90 minutes and are FREE (but donations are greatly appreciated HERE). Please note:
EACH PERSON IN YOUR GROUP MUST HAVE A TICKET (so we may prevent overcrowding).
You do not need to bring a printed ticket; there will be a guest list.
Because this is a historic museum setting, we ask attendees to be mindful of the delicate nature of our exhibits and equipment. Children must be closely monitored.
Dress for the weather, for part of the tour will be outside (weather permitting). Closed-toe footwear is suggested.
IF YOUR PLANS CHANGE and you cannot attend, you may invite someone you know to use your tickets/names for entry -OR- PLEASE RELEASE YOUR TICKETS back to Eventbrite so someone else may attend.
You and members of your group understand that VU may take photos that include you for social media or other uses and that VU cannot prevent you from being photographed by others.
Please be considerate of other guests and do not hold up the line with photos through the telescope. With the attendant's permission, you may attempt a photo after the line clears.
Because this is Vanderbilt University property, firearms and smoking are not allowed.
Accessibility:
The exhibits on the main floor are easily accessible, as are the solar telescope and the paved sundial garden outside.
The Seyfert Telescope is on the second floor and only accessible by twenty steps, split by a large landing.
Notify the staff if you have special parking needs.