Summer Camps for Rising 5th-8th Grades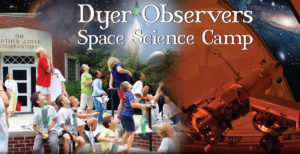 Download the 2023 info flier HERE.
REGISTRATION HAS CLOSED FOR 2023

The Dyer Observers Space Science Camps support middle-school students in their exploration of the worlds of science, math, engineering, and technology, and open up their minds to future career possibilities in these fields.
The highlight of the week is a Journey to the U.S. Space and Rocket Center in Huntsville for a day-long adventure. Other activities may include:
Interact with cutting-edge research astronomers
Learn how telescopes work, and build your own
Safely view the dynamic surface of the Sun through a solar telescope and attend a nighttime telescope viewing
Learn about basic electronics, and use the knowledge to build working projects
Construct a functioning model Hubble Space Telescope
Make your own realistic models of comets, and learn how craters are formed
Design and launch bottle rockets as an introduction to rocketry
EMAIL Alex. Rockafellar at a.rockafellar@vanderbilt.edu with general camp questions.