Summer Camps for Rising 5th-8th Grades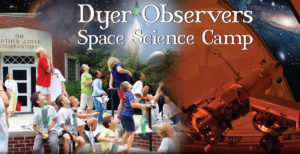 April 1, 2021 Announcement:
Vanderbilt University recently announced the decision to cancel all in-person campus summer camps; therefore, we must cancel our summer camps as well. This was a very difficult decision for all, as we consider our camps to be one of the most important things that we do at Dyer Observatory. We want to be able to have campers and visitors as soon as we can, but the safety of everyone is paramount. We are closely monitoring the vaccination rollouts and the numbers regarding COVID-19, and Vanderbilt University is working closely with VUMC to get the best information regarding social distancing, group sizes, and the like. It is unknown when our in-person events of all types will resume.
We hope that you stay in touch with us through our website plus Twitter, Facebook, and Instagram (all @dyerobservers) and join us for events announced on those platforms. We will also announce our reopening in all of those locations.
Thank you for your interest, and we hope to see you soon!
————————————
The Dyer Observers Space Science Camps support middle-school students in their exploration of the worlds of science, math, engineering, and technology, and opens up their minds to future career possibilities in these fields.
If your child has a strong interest in astronomy and space science and would like to be a part of the Dyer Observatory Space Science Camps, please download and fill out the application below.
The cost for camp includes all materials and transportation, lunch, and tour of the United States Space and Rocket Center in Huntsville. Merit scholarships are not awarded, but financial aid is available to those students who demonstrate financial need. Please include a note with your application.
Questions may be directed to Alex. Rockafellar at a.rockafellar@vanderbilt.edu.