Telescope Nights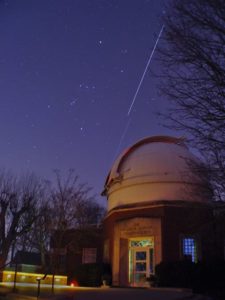 The Dyer Observatory telescopes will be set up for gazing, and the observatory will be open for viewing exhibits and speaking with astronomers. The format is "open house" so you may arrive and depart any time during the event. There will not be a formal talk/program on these nights unless otherwise noted. Suggested for ages 8 and up.
Please note:
Because this is a historic museum setting, we ask attendees to be mindful of the delicate nature of our exhibits and equipment.
The Seyfert Telescope is located on the second floor of the observatory. There are twenty steps leading to the second floor.
For the safety of all observatory guests, closed-toe footwear must be worn.
Vehicles larger than a standard-size school bus will not fit through the gate.
You do not need to bring a printed ticket; there will be a guest list at the gate.
Alert the parking attendant at the gate if you have special parking needs.
If your plans change and you can not attend, please let us know so we may release the space to someone else.
Time:  TIMES VARY due to changing sunset times.
Cost:  $6.27 per person ($5.00 admission plus $1.27 online handling fee.) Each person must have their own reservation.
Tickets are available one month before each event HERE. Tickets for each Telescope Night go on sale one month before each event. If you do not see the tickets you are looking for in the one-month time window on the ticketing page, the event is canceled. Updates on our opening status are on our front page.

NO TICKETS SOLD AT DOOR.  NO REFUNDS OR EXCHANGES. THIS IS A CLEAR OR CLOUDY EVENT.
The Telescope Nights for 2020 are:
March 13:  8:00-10:00 PM
April 10:  8:00-10:00 PM
May 8:  8:30-10:30 PM
June 12: 9:00-11:00 PM
August 14: 9:00-11:00 PM
September 11: 8:00-10:00 PM
October 9: 7:00-9:00 PM
November 13: 7:00-9:00 PM