The Dyer Observer Newsletter and Articles
The fascinating Dyer Observer newsletter series is produced by our own Dr. Billy Teets. Each is quite different from many others you have seen, for a key feature is its ability to have images, links, AND animations built right into it. No need to install any special software or even download the newsletter — everything will be displayed on your computer or smart device from within your web browser.
Sign up to be on our mailing list to automatically receive it HERE.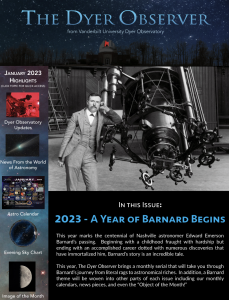 Our January issue ushers in "The year of Barnard" as we remember this legendary astronomer on the centennial of his passing. Also inside is a stunning explanation of the Sun's winding motion in the sky, a local look at the "green comet" and Lunar X, notable historic and current January events, and a big finish with the Rosette Nebula.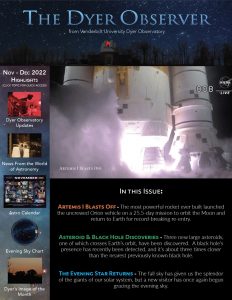 The November+December 2022 issue highlights the successful launch of NASA's Artemis I, recent discoveries of a nearby black hole and three potentially hazardous asteroids, the return of the Evening Star to our dusky sky, and more!
October 2022, Dr. Billy put together 29 pages of the latest astronomy news, a focus on celestial phenomena that are especially spooky for the season, Dyer updates, and the special image of the month!
The September 2022 newsletter articles include: a gloriously illustrated article exploring fascinating new discoveries found in the JWST first images, a chart of the September night sky, Dr. Billy's image of the Ring Nebula with info, the astro calendar, Dyer updates, and more!
The June/early summer 2022 newsletter highlights the first direct views of o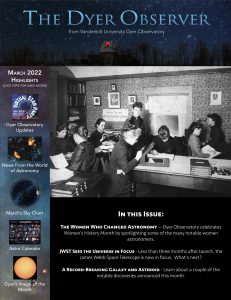 ur galaxy's supermassive black hole and discusses Earth's seasons, the Cat's Eye Nebula, and M87.
The April+May 2022 newsletter features Webb Telescope updates, Dyer events, a look at the lunar eclipse, the farthest star ever discovered, and Dr. Billy's signature "image of the month."
The March 2022 newsletter features the announcement of a galaxy that shatters past records,  in-depth profiles of women who changed astronomy, a stunning "image of the month,"  and more!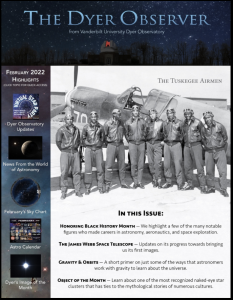 February's 2022 newsletter includes a Webb Telescope Update, a "crash course" on gravity, Black History icons, astronomy news headlines, a close-up look at Sirius and its "Pup," sky charts, and more!
Our January 2022 newsletter includes Webb Telescope science, a discussion of the Moon at perigee and apogee, Venus at inferior conjunction, Mercury at greatest eastern elongation, and more!