Visiting Vanderbilt Dyer Observatory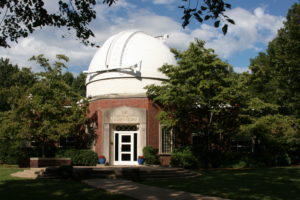 Dyer Observatory is currently open for in-person events! Please click the red button below to visit our ticketing page for tours, telescope nights, meet the astronomer evenings, Bluebird on the Mountain concerts, and more. We will continue to add tours and other events on our ticketing page as additional dates become available.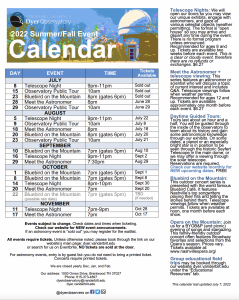 View or download our latest event calendar info sheet for event descriptions, event dates and times, plus when tickets go on sale for each event.
Please note that ALL visits to Dyer must be during a ticketed event. We regret that we cannot accommodate drop-in visitors at this time.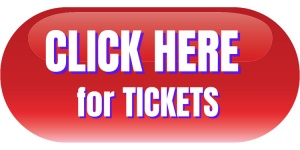 MASKING PROTOCOL UPDATE
UPDATED AUG 15: The CDC has rated the Davidson County community level as HIGH. Masks are to be worn indoors in public areas including the telescope dome.We have masks on hand for anyone that needs one. This designation is reviewed weekly, so please check back before your visit.
Meet the Astronomer: Marina Kounkel explains the star cluster revolution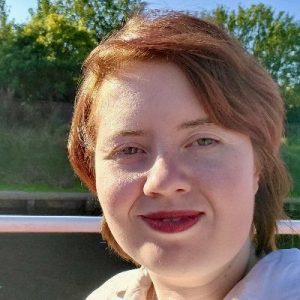 JOIN US THURSDAY, AUGUST 18 AT 8PM. Star clusters are fundamental astrophysical laboratories that allow us to better understand how stars form and how they evolve over time. Whether the clusters are newly born, or they are remnants of the earliest wave of star formation in the Milky Way, they enable probing the physical properties of the Galaxy at the time of their formation. Historically identified only as fuzzy blobs in the eyepiece of a telescope, we are now at a point where we can carefully measure the 3-dimensional position and velocity of the individual stars, resulting in new methods for their detection. The last few years have brought in a cluster revolution! These new discoveries bring about new questions, the most fundamental one of which is "what actually is a star cluster?"
Marina Kounkel is a postdoctoral scholar at Vanderbilt University. 
CLICK HERE FOR TICKETS to attend in person on our tented back patio with giant screen

2022 Bluebird on the Mountain Concerts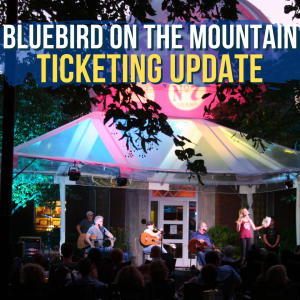 TICKETS FOR SINGLE CONCERTS become available one month before each show at noon sharp (Central Time).
CLICK HERE to go to our ticketing page.
More info, including the artist roster and concert schedule, is available on our concert page.
Download this month's Astro Calendar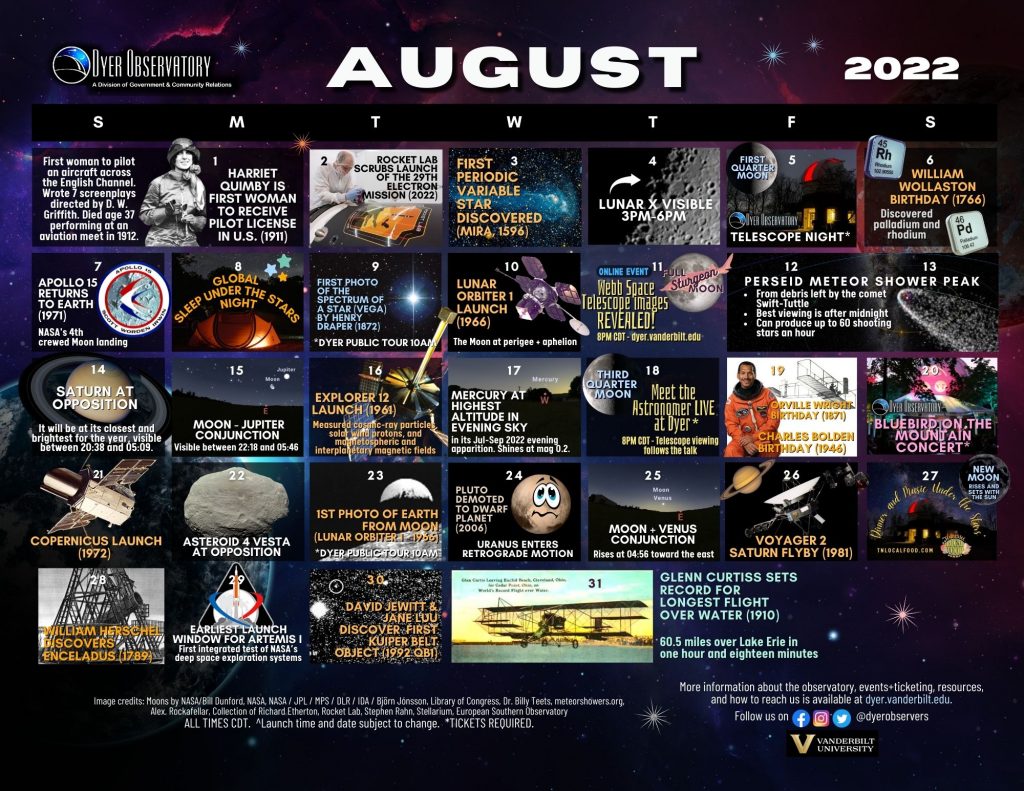 CLICK HERE to download a high-quality PNG, printable PDF, or smaller JPG.
Enjoy our Newsletter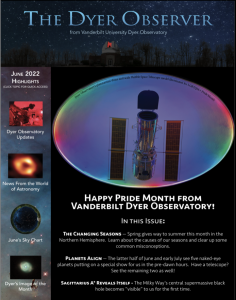 Inside The Dyer Observer, you will find updates about Dyer Observatory and its upcoming events, engaging articles highlighting exciting astronomy news, a monthly sky map, an exciting image of the month, and more!

This newsletter is quite different from many others you have seen, for a key feature is its ability to have images, links, AND animations built right into it. No need to install any special software or even download the newsletter — everything will be displayed on your computer or smart device from within your web browser.
The June/early summer newsletter highlights the first direct views of our galaxy's supermassive black hole and discusses Earth's seasons, the Cat's Eye Nebula, and M87.
The April+May newsletter features Webb Telescope updates, Dyer events, a look at the lunar eclipse, the farthest star ever discovered, and Dr. Billy's signature "image of the month."
The March newsletter features the announcement of a galaxy that shatters past records,  in-depth profiles of women who changed astronomy, a stunning "image of the month,"  and more!
February's newsletter includes a Webb Telescope Update, a "crash course" on gravity, Black History icons, astronomy news headlines, a close-up look at Sirius and its "Pup," sky charts, and more!
Our January newsletter includes Webb Telescope science, a discussion of the Moon at perigee and apogee, Venus at inferior conjunction, Mercury at greatest eastern elongation, and more!
Please feel free to share it!
Sign up to be on our mailing list to automatically receive it HERE.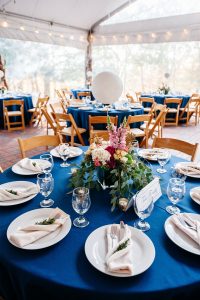 Crowning one of Nashville's tallest peaks, Vanderbilt Dyer Observatory offers park-like grounds, distinctive spaces, and celestial viewing–making us an exceptional venue for social and business events.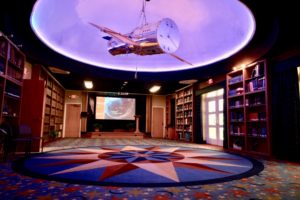 Please visit our Rentals page for more photos and information. Your rental fees help fund Dyer Observatory outreach efforts. Thank you!
Support Dyer Observatory



Our staff is committed to welcoming everyone to the top of our hill to learn about the wonders of the cosmos–not only through our telescopes, but with field trips, tours, lectures, summer camps, and special programming. All are offered to the public at low or no cost. Visitors may also enjoy our special vantage point of Earth itself, under a serene treed canopy and in the company of abundant wildlife.
Please consider helping us fulfill our mission with a donation. Any amount would make a world of difference. For information on how to send a check, please visit this page.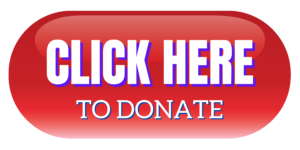 Enjoy Dyer's educational resources at home

Visit our Educational Resources tab to access organized pages with links to lessons, opportunities to sign up for newsletters, interactive online tools, and our fun Quiz and Puzzle page!
View a fun talk by Dr. Erika Grundstrom where she discusses fun and rewarding "Community Science" opportunities for students and adults of all ages. It's true that almost anyone can contribute to research from the comfort of their home! Interests from galaxies to bird watching are included.
Click here to access our video lecture page.
Click here to visit our YouTube Playlist that features past and upcoming videos.
---
Vanderbilt Dyer Observatory
1000 Oman Drive
Brentwood, TN 37027 (not on the main campus)
(615) 373-4897
We are closed to visitors the months of December, January, and February. We may be available for rentals during those times. Staff can be reached during the months we are closed.
Click below to follow @dyerobservers on Facebook, Instagram, and Twitter.
---