Visiting Vanderbilt Dyer Observatory
We offer tours, telescope nights, meet the astronomer evenings, Bluebird on the Mountain concerts, and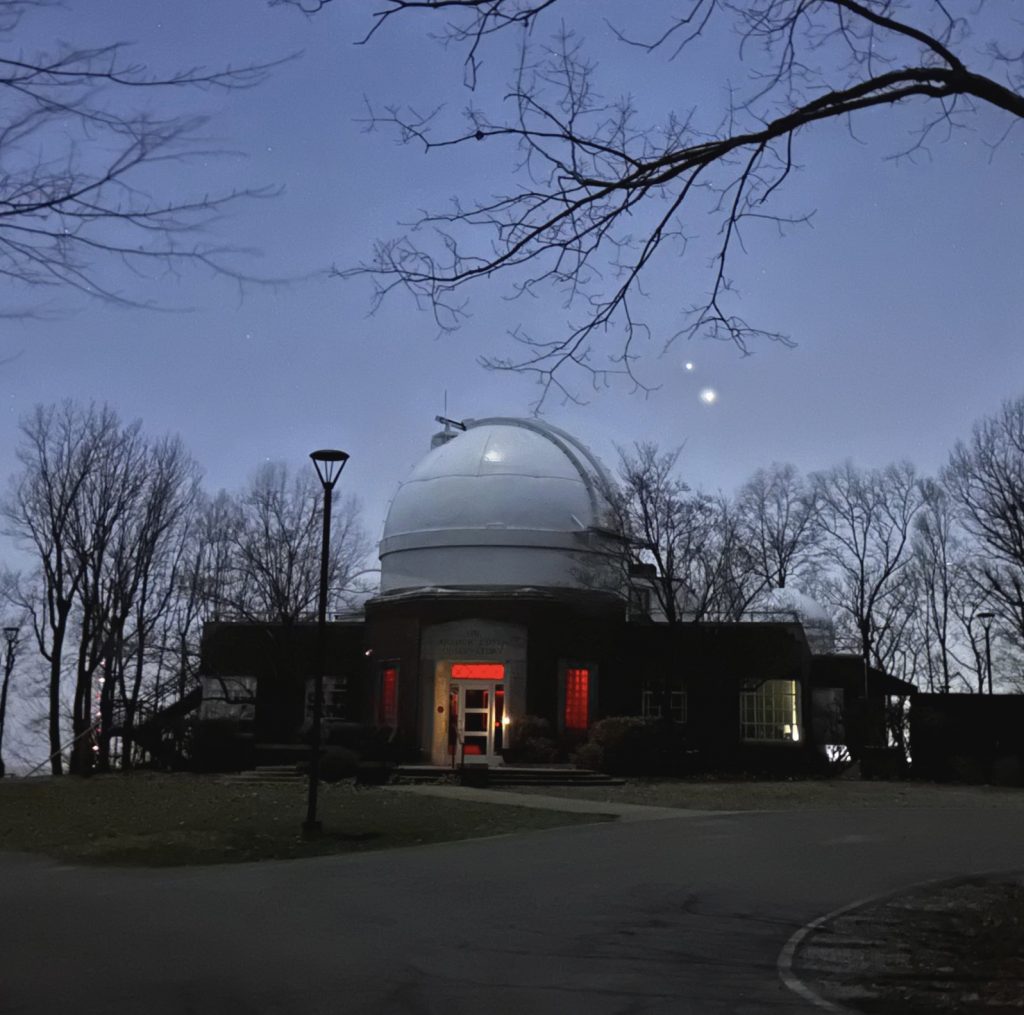 more!

ALL visits to Dyer must be during a ticketed event. VISIT OUR TICKETING PAGE. You may follow us on Eventbrite to be notified when NEW tickets are posted.
Check our website and our ticketing page for additional events that will pop up during the year! Also, scroll down this page for information and ticket links to partner events.
We also offer field trips for 3rd grade and up.
We regret that we cannot accommodate drop-in visitors at this time.
2023 Bluebird on the Mountain Season
Car passes (that allow entry for up to 8 people in your car) are available one month ahead of each show at noon. Visit our concert page for more details and schedule.
There are no special announcements for the Sept. 23 concert at this time.
FREE event Saturday, October 14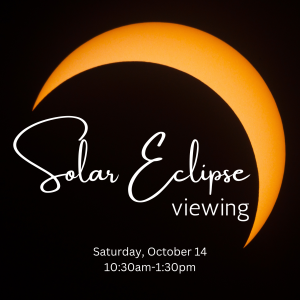 Don't miss the opportunity to witness a celestial wonder! On Saturday, October 14, from 10:30 am to 1:30 pm, visit us for a Live Solar Eclipse Viewing. Safely observe the partial solar eclipse on the Dyer grounds in the company of knowledgeable staff and astronomers. Eclipse glasses and essential information will be readily available on-site, ensuring a safe and awe-inspiring experience of this rare astronomical event.
Tickets are FREE, but you must register. Registration opens Sept 29 at noon.
Monthly Astro Calendar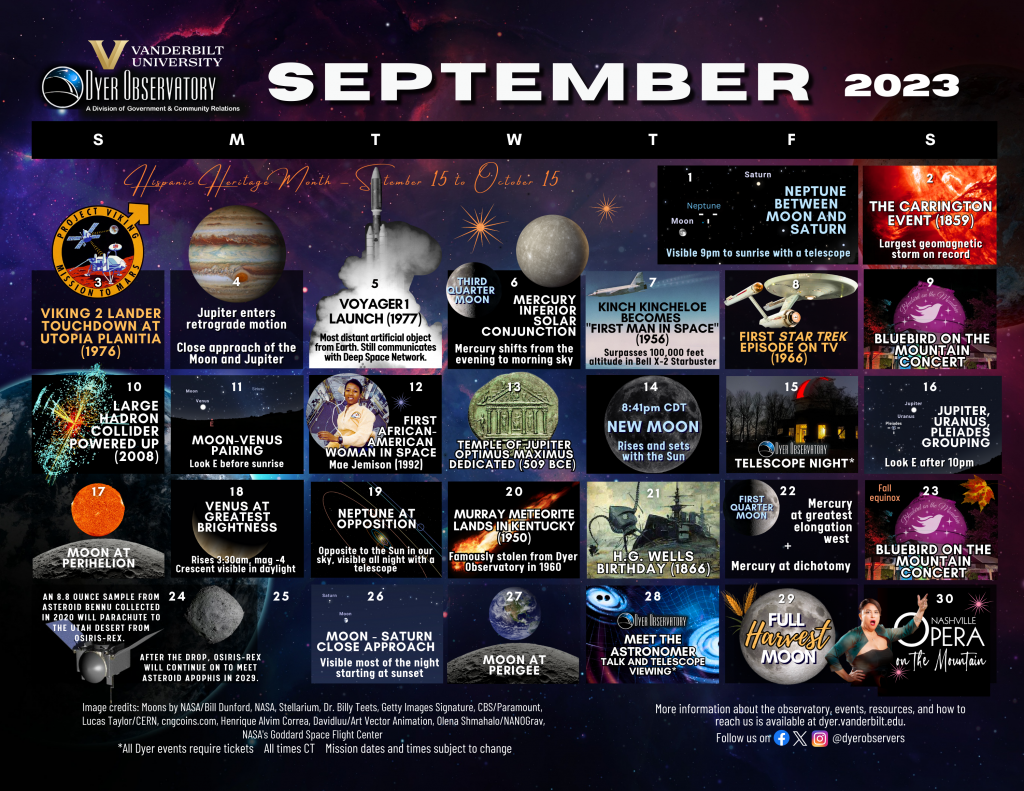 It's back for the school year! Check back every month for upcoming events and a look back at fascinating dates in history. DOWNLOAD THE SEPTEMBER CALENDAR to get a PNG that would look spiffy on your computer desktop or print in brilliant color, a high-quality PDF, or a low resolution JPG for easy sharing.
Enjoy our Newsletter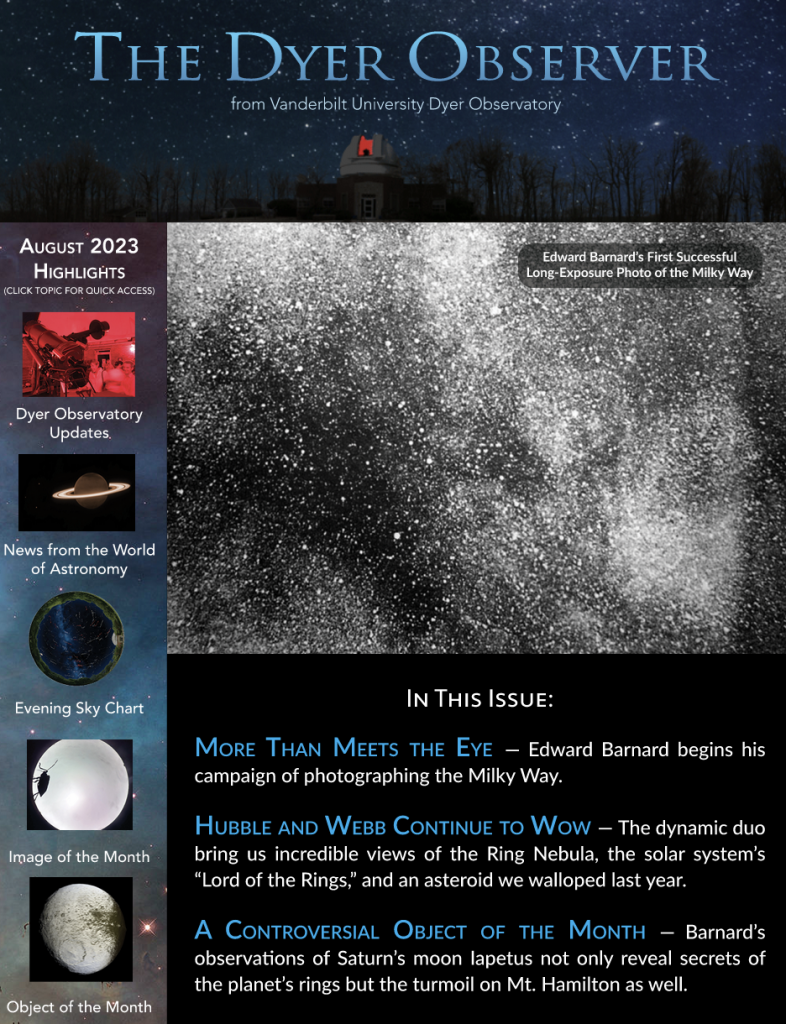 Inside The Dyer Observer, written by our own Dr. Billy Teets, you will find updates about Dyer Observatory and its upcoming events, engaging articles highlighting exciting astronomy news, a monthly sky map, an exciting image of the month, and more!

This newsletter is quite different from many others you have seen, for a key feature is its ability to have images, links, AND animations built right into it. No need to install any special software or even download the newsletter — everything will be displayed on your computer or smart device from within your web browser.
Dr. Billy put together an August issue that you won't want to miss! The "Year of Barnard" continues with an exploration of his first forays into astrophotography, the latest discoveries from Webb and Hubble, a closer look at big astro history dates this month, our love/(mostly) hate of stinkbugs, image of the month, and more!
Please feel free to share it 🙂
Sign up to be on our mailing list to automatically receive it HERE.
Meet the Astronomer Night, Live and Online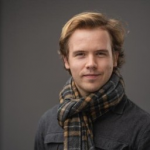 THURSDAY SEPT 28 at 7pm CT: Counting Black Holes in a Café
We believe that at the heart of every galaxy, there lies a black hole. When galaxies merge, their black holes couple up, emitting gravitational waves. Millions of these binary black holes emit these waves, creating a low-frequency hum across the universe, like the background noise of people in a cafe.
Our speaker will be William Lamb, a 4th-year Vanderbilt PhD candidate studying astrophysics at Vanderbilt University. He is also a research assistant for the NANOGrav collaboration and the International Pulsar Timing Array.
This event has sold out the guaranteed seating, but SIGN UP FOR THE WAITING LIST ON EVENTBRITE (click the orange "Get Tickets" button on the Eventbrite page), so you may join us if we move to our large tented patio that accommodates twice as many people and features our giant projection screen. The move outside is dependent on good weather. Those on the waiting list will be notified if additional tickets are released a few days before the event.
WATCH THE FREE LIVESTREAM at event time

Meet the Astronomer Night, Live and Online
THURSDAY, OCTOBER 12 at 7pm CT: Modeling the (not-so) Observable Universe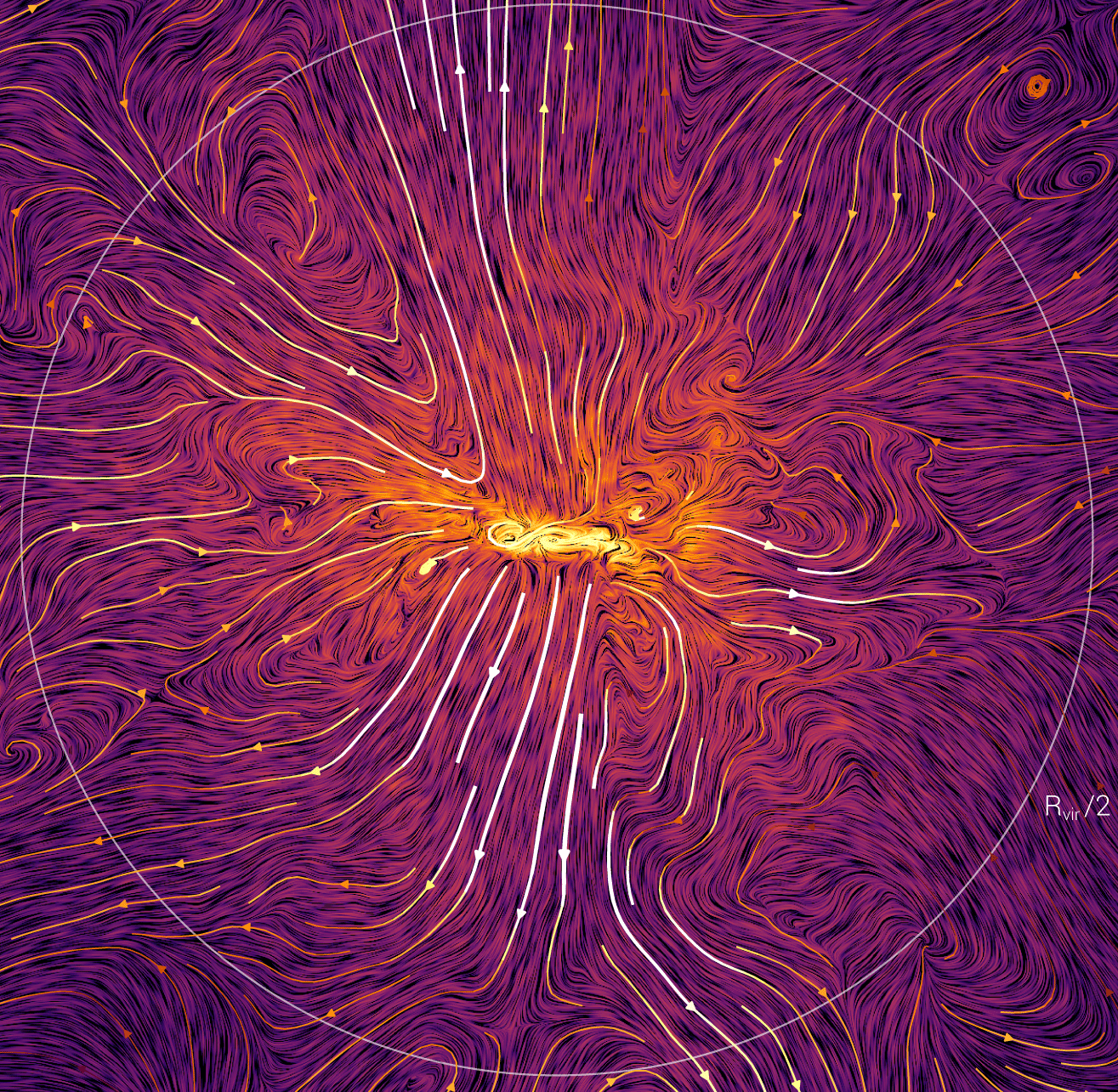 From the expansion of the Universe to the existence of dark matter, mathematical models help us connect faint observations to bold conclusions. In modern astronomy, telescopes and observations make up only half the battle of discovery, but the other side is the theoretical framework that has to unite and explain those observations. At the heart of some of astronomy's most exciting discoveries are not the data points themselves, but the philosophical ideas that unite the data. In this talk, I'll explain how theory and observations work together to reveal the expansion of the universe, existence of dark matter, and how current simulations are further illuminating the shape and nature of our universe!
Christina Davis has a PhD in Astrophysics from Vanderbilt University and is currently the Director of Data Science at Belmont University. Her graduate research focused on studying the evolution of simulated galaxies in a cosmological simulation. In addition to galaxies and computers, she enjoys bike riding, dog walking, and knitting.
WATCH THE FREE LIVESTREAM at event time
Have an Event at Dyer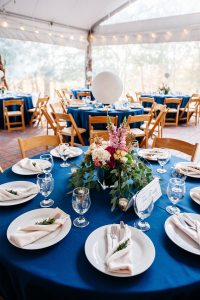 Crowning one of Nashville's tallest peaks, Vanderbilt Dyer Observatory offers park-like grounds, distinctive spaces, and celestial viewing–making us an exceptional venue for social and business events.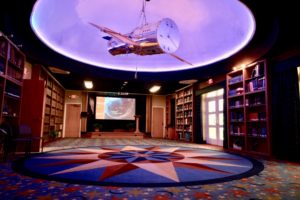 Visit our Rentals page for more photos and information. Your rental fees help fund Dyer Observatory outreach efforts. Thank you!
Support Dyer Observatory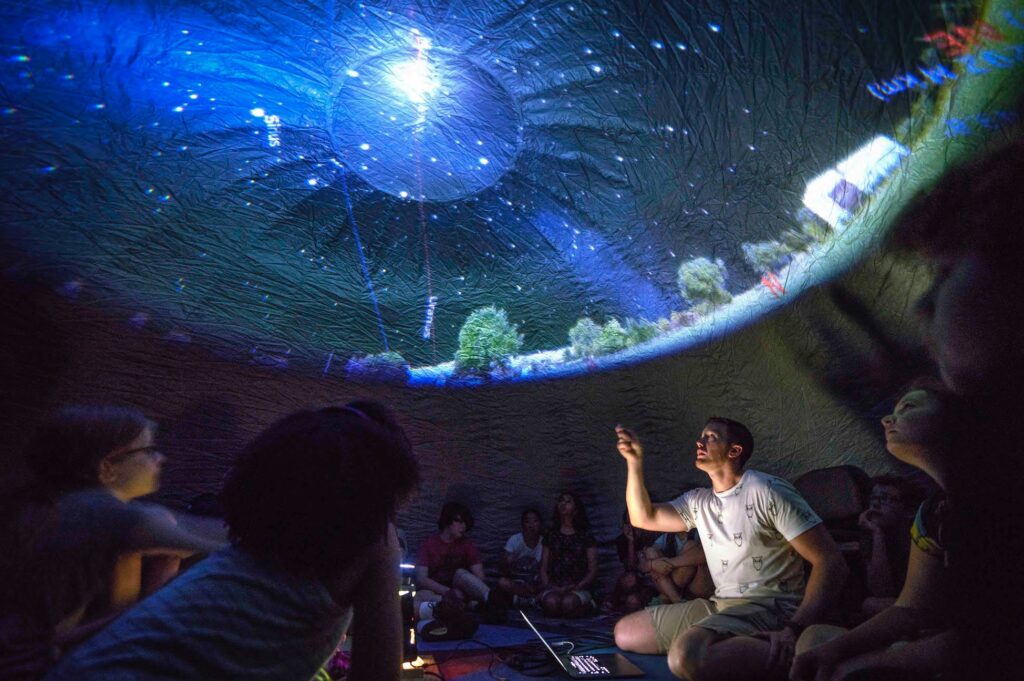 Our staff is committed to welcoming everyone to the top of our hill to learn about the wonders of the cosmos–not only through our telescopes, but with field trips, tours, lectures, summer camps, and special programming. All are offered to the public at low or no cost. Visitors may also enjoy our special vantage point of Earth itself, under a serene treed canopy and in the company of abundant wildlife.
Please consider helping us fulfill our mission with a donation. Any amount would make a world of difference. For information on how to send a check, please visit this page.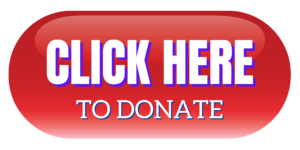 Enjoy Dyer's educational resources at home

Visit our Educational Resources tab to access organized pages with links to lessons, opportunities to sign up for newsletters, interactive online tools, and our fun Quiz and Puzzle page!
View a fun talk by Dr. Erika Grundstrom where she discusses fun and rewarding "Community Science" opportunities for students and adults of all ages. It's true that almost anyone can contribute to research from the comfort of their home! Interests from galaxies to bird watching are included.
Access our video lecture page.
Visit our YouTube Playlist that features past videos.
---
Vanderbilt Dyer Observatory
1000 Oman Drive
Brentwood, TN 37027 (not on the main campus)
(615) 373-4897
We are closed to visitors the months of December, January, and February. We may be available for rentals during those times. Staff can be reached during the months we are closed.
Click below to follow @dyerobservers on Facebook, Instagram, and Twitter.
---