***THE MAY 15 ECLIPSE TELESCOPE NIGHT IS CANCELED DUE TO INCOMING BAD WEATHER***
Visiting Vanderbilt Dyer Observatory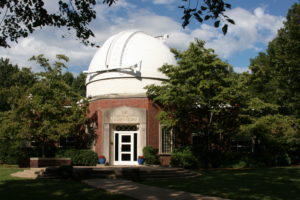 Now that Dyer Observatory has reopened for in-person events, we are resuming our FREE in-person guided tours.  If you would like to join one of these tours, please visit our ticketing page HERE. We will post tours as dates become available.

Tours last about an hour to an hour and a half. You will be guided through the inside of the observatory to learn about its history and gain some astronomical knowledge through our exhibits. On some dates, Venus or an especially bright star is in position to be seen during daylight hours through the historic Seyfert telescope in the main dome or we may offer a viewing through the solar telescope. Viewing is dependent on weather and objects' positions.
As of March 10, indoor masking is optional for guests. We have masks on hand if you need one.
***CANCELED DUE TO WEATHER***

LUNAR ECLIPSE Telescope Night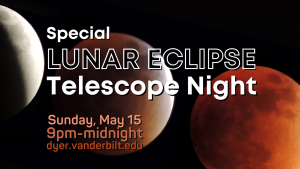 The Dyer Observatory telescopes will be set up for viewing various celestial objects, interacting with exhibits, and speaking with astronomers. The format is "open house" so you may arrive and depart at your convenience during your ticketed time. There will not be a formal talk/program. Suggested for ages 8 and up.
YOU HAVE A CHOICE OF YOUR TICKETED TIME. Please plan to arrive and depart in your allotted time so crowding is minimized.
9-10 pm: Eclipse will be underway at the start of the hour and will reach 50% coverage by the end of the hour.
10-11 pm: At the beginning of the hour, the eclipse will be at 50% and will reach totality at 10:30.
11-midnight: The eclipse will continue to be at totality through all but the last few minutes of the hour.
LIVE Webb Telescope Evening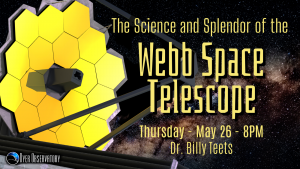 On Thursday, May 26 at 8pm, join us LIVE as our Dr. Billy Teets gives a fantastic talk on the James Webb Space Telescope. The most powerful telescope ever launched into space, the Webb's infrared-detecting technology "will reveal the hidden universe to our eyes: stars shrouded in clouds of dust, water in the atmospheres of other worlds, and the first light from the earliest galaxies ever formed."

You are invited to view the cosmos through our historic Seyfert telescope after the talk and Q&A (if weather permits).
CLICK HERE FOR TICKETS and to follow us on EVENTBRITE for automatic ticket announcements.
2022 Bluebird on the Mountain Concerts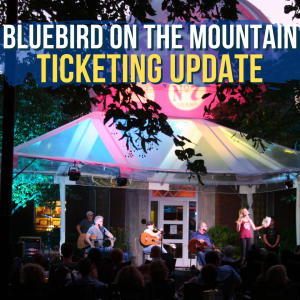 TICKETS FOR SINGLE CONCERTS become available one month before each show. These tickets will be posted to our Eventbrite page as the season progresses.
CLICK HERE to go to our ticketing page.
More info, including the concert schedule, is available on our concert page.
Enjoy our NEW monthly newsletter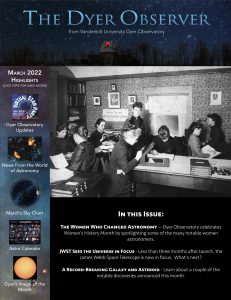 Inside The Dyer Observer, you will find updates about Dyer Observatory and its upcoming events, engaging articles highlighting exciting astronomy news, a monthly sky map along with our fun astro calendar, and more!  The January edition is out and February will be along shortly.

This

newsletter

is different from many you may have seen for one of the key features we are very excited about is its ability to have images, links, AND animations built right into it.  No need to install any special
software or even download the

newsletter

— everything will be displayed on your computer or smart device from within your web browser.
The March newsletter features the announcement of a galaxy that shatters past records,  in-depth profiles of women who changed astronomy, a stunning "image of the month,"  and more!
February's newsletter includes a Webb Telescope Update, a "crash course" on gravity, Black History icons, astronomy news headlines, a close-up look at Sirius and its "Pup," sky charts, and more!
Our January newsletter includes Webb Telescope science, a discussion of the Moon at perigee and apogee, Venus at inferior conjunction, Mercury at greatest eastern elongation, and more!
Please feel free to share it!
Sign up to be on our mailing list to automatically receive it HERE.
Download this month's Astro Calendar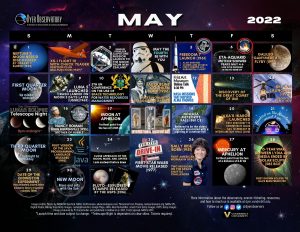 CLICK HERE to download the May 2022 Astro Calendar

Have an Event at Dyer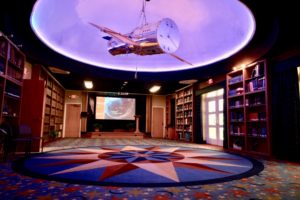 Crowning one of Nashville's tallest peaks, Vanderbilt Dyer Observatory offers park-like grounds, distinctive spaces, and celestial viewing–making us an exceptional venue for social and business events.
Please visit our Rentals page for more photos and information. Your rental fees help fund Dyer Observatory outreach efforts. Thank you!
2022 Space Science Summer Camps Update
UPDATE March 8, 2022:We will not hold week-long camps this year, but we are looking at other programming to serve families over the summer. Check our website from time to time for updates and follow us on social (FB, Twitter, and Instagram @dyerobservers) for announcements. (Live links are in the lower banner on this page.)
Support Dyer Observatory



Our staff is committed to welcoming everyone to the top of our hill to learn about the wonders of the cosmos–not only through our telescopes, but with field trips, tours, lectures, summer camps, and special programming. All are offered to the public at low or no cost. Visitors may also enjoy our special vantage point of Earth itself, under a serene treed canopy and in the company of abundant wildlife.
Please consider helping us fulfill our mission with a donation. Any amount would make a world of difference. For information on how to send a check, please visit this page.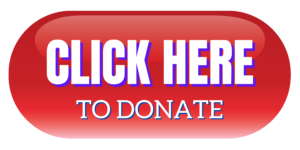 THANK YOU for making our Giving Day a success!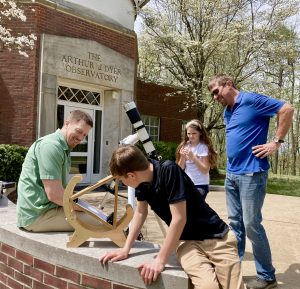 Our small and dedicated staff works very hard to offer the community unforgettable moments on our verdant grounds.
We thank our Giving Day donors who gave more than $3000 so we may continue to offer free and affordable science education to the public.
This photo was taken on April 21 as our Dr. Billy Teets gave a tour to a family from Delaware who wanted to visit our legendary facility. It's what we do and we do it every day.
The results of the day are available HERE.
Enjoy Dyer's educational resources

Visit our Educational Resources tab to access organized pages with links to lessons, opportunities to sign up for newsletters, interactive online tools, and our fun Quiz and Puzzle page!
View a fun talk by Dr. Erika Grundstrom where she discusses fun and rewarding "Community Science" opportunities for students and adults of all ages. It's true that almost anyone can contribute to research from the comfort of their home! Interests from galaxies to bird watching are included.
Click here to access our video lecture page.
Click here to visit our YouTube Playlist that features past and upcoming videos.
---
Vanderbilt Dyer Observatory
1000 Oman Drive
Brentwood, TN 37027 (not on the main campus)
(615) 373-4897
We are closed to visitors the months of December, January, and February. Staff can be reached during the months we are closed.
Click below to follow @dyerobservers on Facebook, Instagram, and Twitter.
---