Visiting

Vanderbilt Dyer Observatory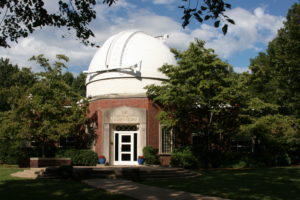 Regular astronomy events are currently suspended, but the Bluebird concert series, field trips, venue rentals, and WEEKDAY DAYTIME drop-in visits (by appointment only) are available at this time. PLEASE EMAIL US for information or to arrange a visit time.

You are invited to check our social media (@dyerobservers on FB, Twitter, and Instagram) for updates and upcoming activities.
Please email or call 615-373-4897 with questions. We will post further updates as they are available.
Bluebird on the Mountain 2021

Situated on one of the tallest hilltops in Nashville, the concerts are scheduled around glorious sunsets on the portico of the Vanderbilt Dyer Observatory. Guests are encouraged to bring blankets, lawn chairs, food, and drink and relax on the Observatory's front lawn to enjoy a fabulous evening of sunset, music, and stars. After the performance, when the stars begin to shine, the telescope is opened for visitors to cap their night with views of celestial wonders.
As of August 2, 2021, Vanderbilt University policy requires that ALL visitors, whether fully vaccinated or not, be masked in order to enter a university building, including Dyer Observatory.
TICKETING, general concert info, and further safety info is available HERE.

Join our Team

If you are looking for part-time work and would like to spend time with nice people in a beautiful setting, please visit https://ecsr.fa.us2.oraclecloud.com/hcmUI/CandidateExperience/en/sites/CX/requisitions/preview/10001303/?keyword=flex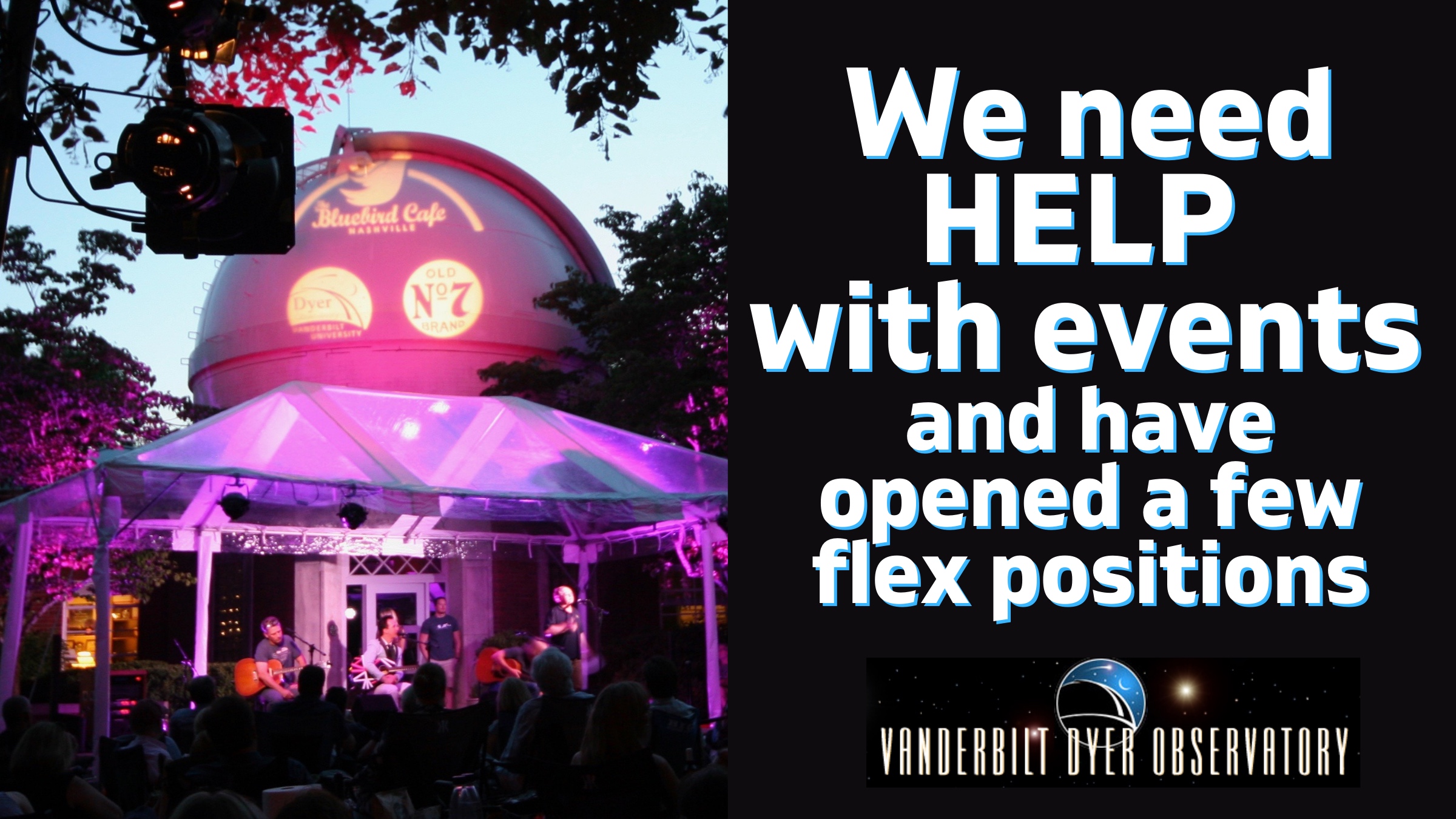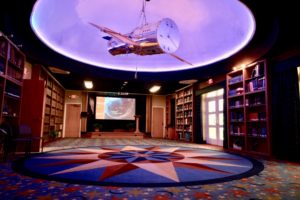 Crowning one of Nashville's tallest peaks, Vanderbilt Dyer Observatory offers park-like grounds, distinctive spaces, and celestial viewing–making us an exceptional venue for social and business events.
Please visit our Rentals page for more photos and information. Your rental fees help fund Dyer Observatory outreach efforts. Thank you!
Enjoy Dyer's educational resources

Visit our Educational Resources tab to access organized pages with links to lessons, opportunities to sign up for newsletters, interactive online tools, and our fun Quiz and Puzzle page!
View a fun talk by Dr. Erika Grundstrom where she discusses fun and rewarding "Community Science" opportunities for students and adults of all ages. It's true that almost anyone can contribute to research from the comfort of their home! Interests from galaxies to bird watching are included.
Click here to access our video lecture page.
Click here to visit our YouTube Playlist that features past and upcoming videos.
Support Dyer Observatory
We proudly serve the public as a member of Vanderbilt University's Division of  Government and Community Relations. Many of our programs are made possible by the generosity of alumni, friends, and neighbors. Your gift will make a tremendous difference to our efforts to bring science education to the next generation of explorers both locally and around the globe.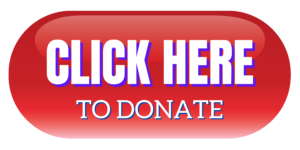 For information on how to send a check, please visit this page. If you have questions regarding a gift, please contact the Gift Processing Office at onlinegiving@vanderbilt.edu or call (800) 288-0082. The staff, university, and community thank you for your generosity!
---
Vanderbilt Dyer Observatory
1000 Oman Drive
Brentwood, TN 37027 (not on the main campus)
(615) 373-4897
We are closed to visitors the months of December, January, and February.
Staff can be reached during the months we are closed.
Click below to follow @dyerobservers on Facebook, Instagram, and Twitter.
---