Perseids Peak August 12-13, visible all month
This meteor shower is a perennial favorite because it occurs during warm summer nights and features large meteors and fireballs. The Moon's brightness will interfere with early evening viewing, so before sunrise on the 13th is recommended. No special equipment is needed to enjoy the show–just lie down on a blanket in a dark area.
Lots more information about the shower and a link to view it online is available from NASA here: https://blogs.nasa.gov/Watch_the_Skies/2019/08/ Don't despair if you miss out tonight. This is a long shower that will slowly diminish through the end of the month.
Our Dr. Billy Teets has made up these sky charts just for you! There are charts for 9pm and 5am Aug 12-13. They are still good to use other nights, just be aware the Moon will move significantly from night to night. Each has a night view if you refer to them online (or screenshot) and a print view if you wish to take them outside on paper.
Thursday, August 15 at 7pm: Meet the Astronomer – The legendary Dr. C. Robert O'Dell
This is how we came to be, the Orion Nebula Star Formation Nursery
We all appreciate the beauty of the constellation Orion that dominates the winter sky. Not only beautiful, but it is also the home of the eponymous Orion Nebula, which is the closest region of our Galaxy where hot stars are being created. This lavishly illustrated talk will explain how stars are formed and what study of the Orion Nebula has revealed about the process of creating stars, an activity that continues even today.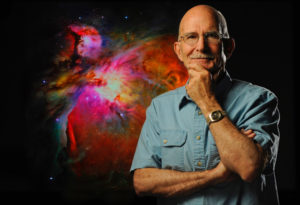 About Dr. O'Dell:
Bob O'Dell is a native of Southern Illinois who received his Ph.D. in Astronomy from the University of Wisconsin in 1962. He came up through the professorial ranks at the University of Chicago, where he was also the Director of the Yerkes Observatory. He served as the founding Project Scientist for what is now called the Hubble Space Telescope until 1983, after which he remained involved with the Observatory, having stepped out as Chair of the Board of Directors of the Space Telescope Science Institute in 2016. He retired from Rice University in 2000 to assume his current position of Distinguished Research Professor at Vanderbilt University. He is the author of many published research articles and four books, two on Aerobatic Flying and two on the Orion Nebula.
He has always been interested in the Orion Nebula and has published papers on this spectacular object for over fifty years.
TICKETS: https://www.eventbrite.com/o/vanderbilt-university-dyer-observatory-2143130631
Open House Days and Telescope Nights
Tickets are available one month before each event. Please note that these events sell out quickly, so plan ahead to avoid disappointment. Visit our Open House Days and Telescope Nights pages for more information.
CLICK HERE FOR TICKETS to these events.
View our CALENDAR HERE: Public Calendar rev Jan 8
There are no events in the months of December, January, or February, because Dyer Observatory is closed.
Bluebird on the Mountain
This concert series presented with the world famous Bluebird Cafe is scheduled around glorious sunsets on the portico of the Vanderbilt Dyer Observatory.
Tickets for individual concerts are available the first day of the prior month of each show (i.e. the May 18 tickets will be available April 1) at NOON. Each ticket will admit one carload with a maximum of 8 passengers. All guests on a ticket must arrive together in a single car. Please note that tickets sell out extremely quickly.
Please see our Bluebird on the Mountain web page for more information.
Visiting Vanderbilt Dyer Observatory
Due to the volume of public and private events, self-guided tours of Vanderbilt Dyer Observatory and our Star Chamber are available by appointment only. Public event dates and times are listed on our calendar, and we are also available for school field trips or community tours with reservations. Before dropping in, please call us at 615-373-4897 or email us here to confirm we are open and available when you wish to stop in.
---
Follow us on Facebook @dyerobservers and Twitter @dyerobservers for updates
Vanderbilt Dyer Observatory
1000 Oman Drive, Brentwood TN 37027
phone: (615) 373-4897
---