"Video Tranquilizer" to Reveal Mars Canals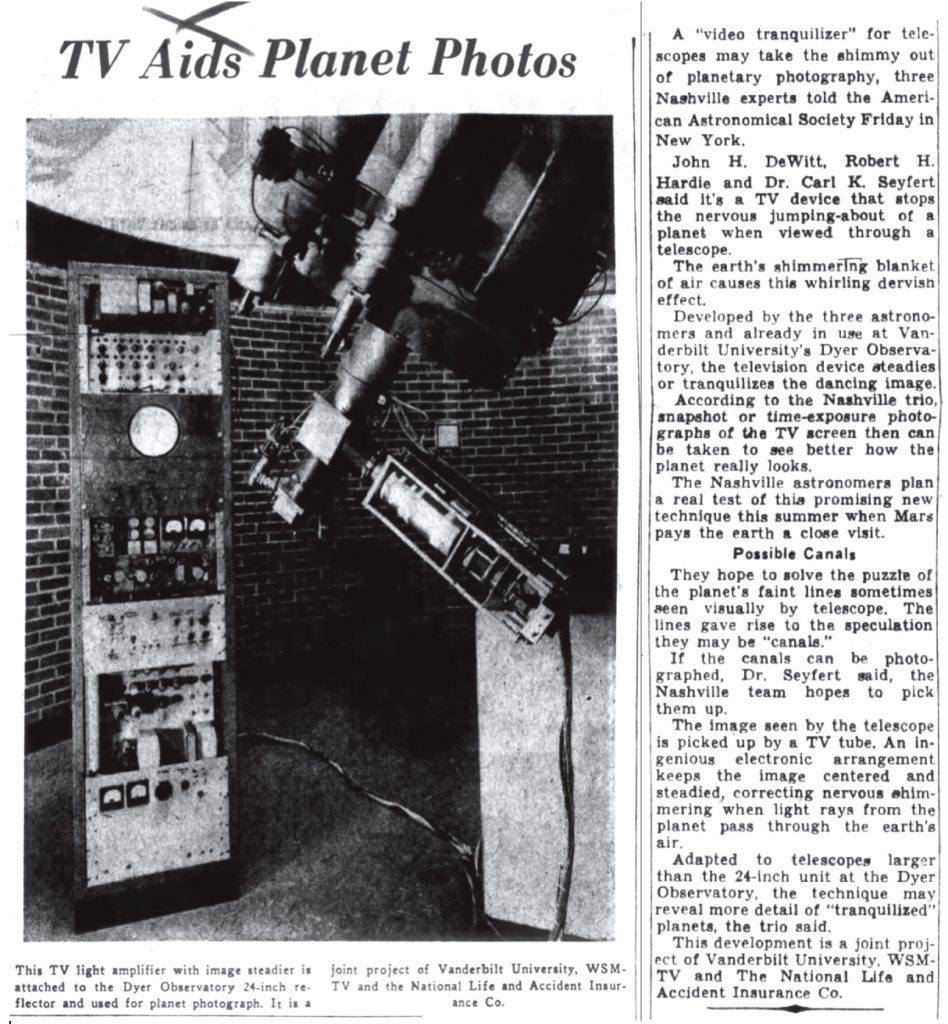 This article appeared on the front page of the May 11, 1957, Nashville Banner. Because the Dyer Observatory was still a relatively new facility, opened December 27, 1953, news of any advances or changes were regularly reported in the press.
This piece announced that a "video tranquilizer" was designed and fitted to the Dyer's main telescope to aid in taking clearer photographs of planets. The Dyer's director, Carl Seyfert, staff astronomer Robert H. Hardie, and researcher John H. (Jack) DeWitt designed the piece and announced the technological advancement to the American Astronomical Society in New York the day before. The first planned trial was to view the faint lines on Mars when it made a close approach to Earth in the summer in hopes of discovering if the faint lines on its surface were canals.
Naturally, Vanderbilt University was named as a sponsor of the project, but why were WSM-TV and National Life and Accident Insurance Company? The connection here is Jack DeWitt. Not only was he a researcher at Vanderbilt, but he was the president of WSM, which was owned by the insurance company. In fact, the station's call letters were an abbreviation of the company's slogan "We Shield Millions."
---
Tucked up among the wooded hilltops of northern Brentwood, Vanderbilt Dyer Observatory is considered by many to be a hidden treasure of the area. Visitors to our satellite campus not only learn about some of the cutting-edge discoveries and science in astronomy but they also get a dose of nature, history, and many other things while here. Over the years, we at Dyer Observatory have made the preservation of our facility and grounds a key mission. Preservation not only entails things such as maintaining our telescopes — it also includes keeping a record of days passed. Since 1953, we have amassed a number of interesting images, pieces of equipment, and ephemera. Every day tends to bring new surprises. In continuing our tradition of public education and outreach, Stellar Finds regularly provides an image and description of the diverse paraphernalia associated with Vanderbilt Dyer Observatory and the history of astronomy at Vanderbilt University.