The Solar Eclipse of March 7, 1970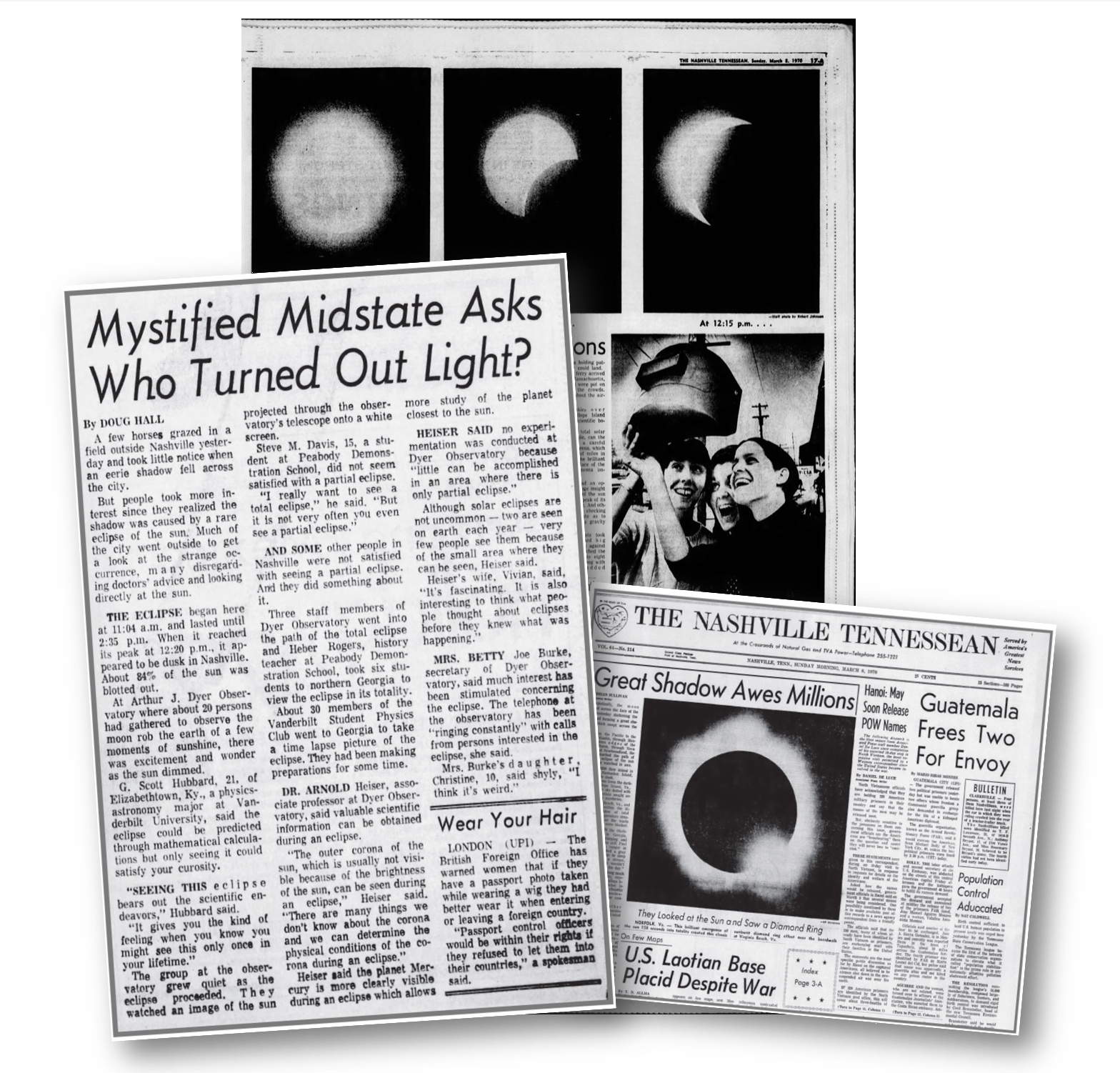 Did you witness the great solar eclipse of March 7, 1970? Totality crossed Florida and skirted up the United States' eastern seaboard, but a partial eclipse was visible across the contiguous forty-eight states. In Nashville, the partial eclipse began at 11:04 am and lasted until 2:35 pm. At its peak at 12:20 pm, 84% of the Sun was blocked by the Moon. Dyer Observatory Director, Doug Hall, reported that about twenty people observed the event on the premises, but some Vanderbilt staff and students went out of state to witness totality.
Dyer Observatory's Dr. Arnold Heiser noted that total solar eclipses allow for better investigation of the Sun's corona and the planet Mercury, but the partial eclipse at Dyer on this date did not allow for any appreciable study.
For those eager to catch a solar eclipse without having to travel outside of the United States, your next opportunity comes on October 14th, 2023, during an annular solar eclipse.  Almost six months after that (April 8, 2024) will be the next total solar eclipse visible from the U.S.  In both instances, however, Nashville will witness a partial eclipse.
---
Tucked up among the wooded hilltops of northern Brentwood, Vanderbilt Dyer Observatory is considered by many to be a hidden treasure of the area. Visitors to our satellite campus not only learn about some of the cutting-edge discoveries and science in astronomy but they also get a dose of nature, history, and many other things while here. Over the years, we at Dyer Observatory have made the preservation of our facility and grounds a key mission. Preservation not only entails things such as maintaining our telescopes — it also includes keeping a record of days passed. Since 1953, we have amassed a number of interesting images, pieces of equipment, and ephemera. Every day tends to bring new surprises. In continuing our tradition of public education and outreach, Stellar Finds regularly provides an image and description of the diverse paraphernalia associated with Vanderbilt Dyer Observatory and the history of astronomy at Vanderbilt University.