Comet Mrkos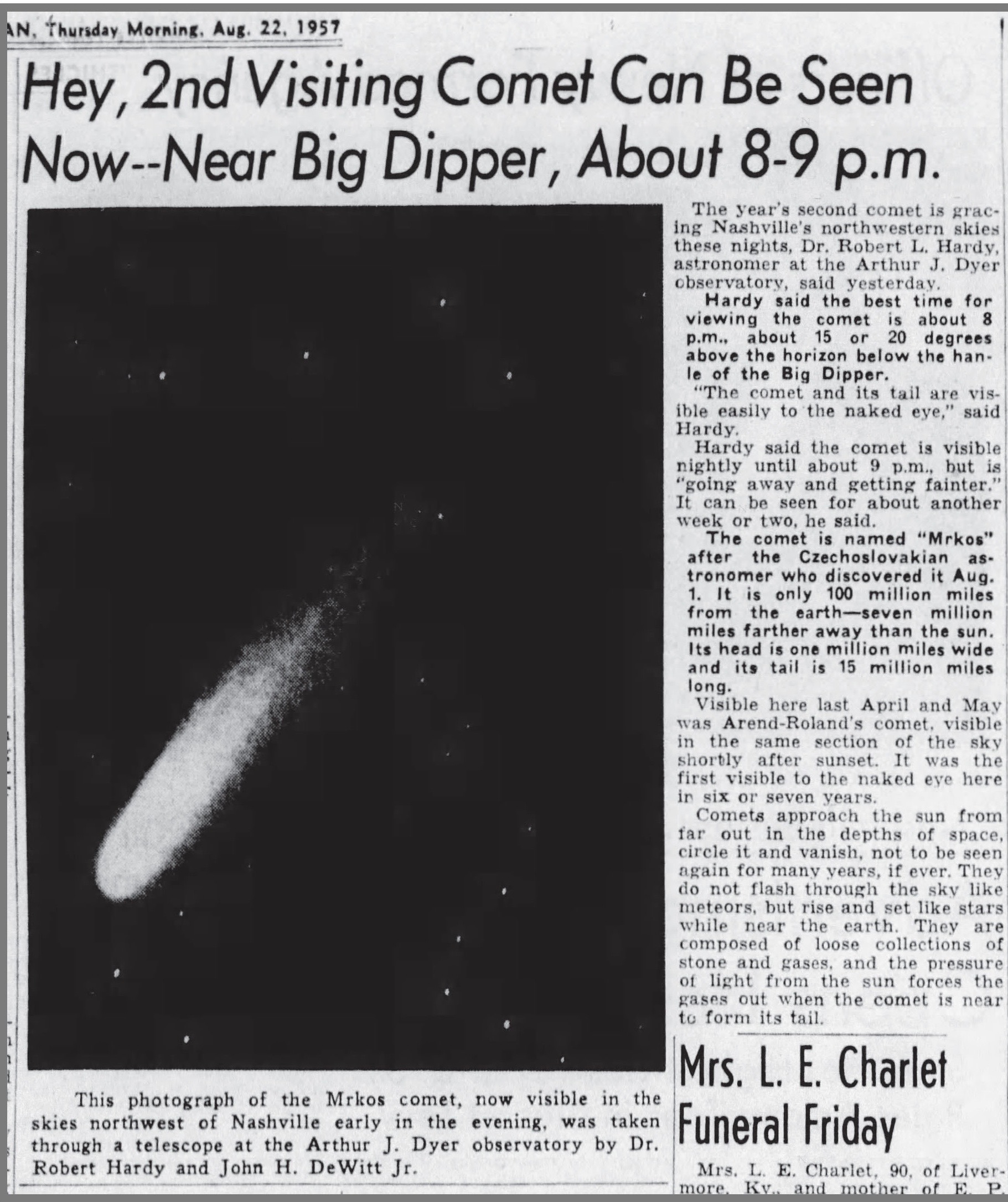 Occasionally, Nashville residents are lucky enough to see a comet pass in the night sky. In August 1957, Comet Mrkos, named for the Czechoslovakian astronomer Antonín Mrkos who discovered it, was visible for a few weeks to the naked eye. It was dubbed the "2nd Visiting Comet" because that spring, the passing of Comet Arend-Roland was also easily observable. It is noted in this article that about seven years had passed since a comet had been seen from the Nashville area.
This photo was taken at Dyer Observatory by Dr. Robert Hardie, associate professor of astronomy at Vanderbilt, and John (Jack) DeWitt Jr., president of WSM and research associate at the observatory.
---
Tucked up among the wooded hilltops of northern Brentwood, Vanderbilt Dyer Observatory is considered by many to be a hidden treasure of the area. Visitors to our satellite campus not only learn about some of the cutting-edge discoveries and science in astronomy but they also get a dose of nature, history, and many other things while here. Over the years, we at Dyer Observatory have made the preservation of our facility and grounds a key mission. Preservation not only entails things such as maintaining our telescopes — it also includes keeping a record of days passed. Since 1953, we have amassed a number of interesting images, pieces of equipment, and ephemera. Every day tends to bring new surprises. In continuing our tradition of public education and outreach, Stellar Finds regularly provides an image and description of the diverse paraphernalia associated with Vanderbilt Dyer Observatory and the history of astronomy at Vanderbilt University.