Muriel Mussells Seyfert – Artist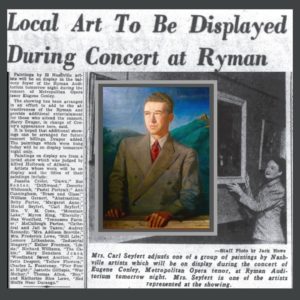 This Nashville Banner clipping from March 18, 1952, announced a one-night art show at the Ryman Auditorium that featured Muriel Seyfert, wife of Vanderbilt faculty member and future Dyer Observatory director, Carl Seyfert. Not only was Muriel an accomplished painter; she enjoyed many talents including being a renowned astronomer in her own right. In this juried show, she displayed her painting titled "Carl Seyfert." It was likely this portrait she did in 1949 (see color insert) that is now displayed in the Dyer Observatory stairwell leading up to the Seyfert Telescope.
When plans were drawn up for the Dyer Observatory residence that housed the Seyfert family beginning in 1953, an oversized picture window was designated on its north side to not only give a nice view of the observatory, but to provide Muriel with beneficial light for her painting studio. The residence is currently an office and rental portion of the facility affectionately dubbed "Muriel's Retreat."
More information is available on the painting and Carl Seyfert on the Tennessee Portrait Project website.
Photo of the portrait by Nathan Griffin.
---
Tucked up among the wooded hilltops of northern Brentwood, Vanderbilt Dyer Observatory is considered by many to be a hidden treasure of the area. Visitors to our satellite campus not only learn about some of the cutting-edge discoveries and science in astronomy but they also get a dose of nature, history, and many other things while here. Over the years, we at Dyer Observatory have made the preservation of our facility and grounds a key mission. Preservation not only entails things such as maintaining our telescopes — it also includes keeping a record of days passed. Since 1953, we have amassed a number of interesting images, pieces of equipment, and ephemera. Every day tends to bring new surprises. In continuing our tradition of public education and outreach, Stellar Finds regularly provides an image and description of the diverse paraphernalia associated with Vanderbilt Dyer Observatory and the history of astronomy at Vanderbilt University.